You want custom software because you want to move forward with your organisation or team. To speed up. You know you can accomplish much more; help your customers, organisation and partners faster and better. Your software has to fit seamlessly with the plans and processes. The software should accelerate strategy and ambitions, not limit or slow them down. In short, you need customisation. 
---
Custom software development for you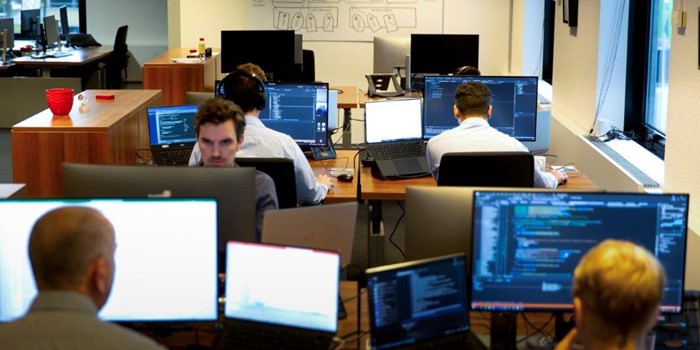 We regularly see organisations adjusting their plans and processes to suit the available software. This is often disastrous for the growth of your business. Standard software is soon not enough. You experience limitations: it is cumbersome, ineffective, inefficient, not scalable, insufficiently adaptable, and not flexible. In short, it takes too much time and money. As a result, ambitions, and plans are watered down or unfulfilled.
It is only natural to look for tailor-made answers. In this case, custom software. Software that optimally supports or automates your business processes. We can support you with this in various ways. We will help you find the best custom software solution for you.
---
Software consultancy
If you want to expand and upgrade your existing systems and applications with customisation, you need specialist knowledge and experience. Something that cannot be taken for granted, especially in the field of software development. Sometimes it helps to have an outsider take a look. Someone who can take a close look at your software plans and wishes, who takes a fresh look at your challenges and helps you find the right technical route. Our principal Cloud Architects - highly experienced Microsoft Azure specialists - will be happy to work with your team and after a few hours or a day, you will be much wiser. That's a promise.
If you really want to speed up your software plans, it pays to hire specialists with knowledge and experience. After all, good software starts with a good development team. You need experienced developers and testers. Getting good developers to commit to your organisation is becoming increasingly difficult. Fortunately, our experienced developers and technical testers can deliver immediate value. They know exactly what to watch out for and they apply that knowledge to building the best software for our clients. Our Azure consultants are more than happy to come and reinforce your team.
---
Tailor-made software training
Knowledge is the starting point if you want customisation. From this perspective, you can also choose to take your software development team(s) to the next level, by allowing your developers to gain the necessary specialist knowledge and experience. Betabit offers a specialised software training programme which keeps pace with the major developments in our professional field.
Your developers can follow the best parts of our own training curriculum. These are offline and online software training courses personalised to each individual's knowledge requirements and based on the wishes of your organisation. The unique, tailor-made training programme ensures that you get the necessary software knowledge quickly, interactively, and in an accessible way. An important step towards developing and maintaining custom software yourself.
---
Your software application from A to Z
Ultimately, you want to see your software idea or plan converted into the perfect customised application(s). You know what you need to create in order to take the next step. But, sometimes there is a lack of development knowledge, expertise, or capacity. You do not have a dedicated development team to reinforce or train. In that case, you can also choose to have your software product built completely. We can take software projects and the realisation of your application out of your hands; from A to Z.
And if your software has successfully gone live, you will want to keep your end-users happy too. With proactive maintenance and full management, Managed Services, we can ensure that your application remains in top condition.
---
Stand out
There are different paths to take in order to arrive at the best business-critical software for your organisation. User-friendly, smart custom software that avoids wasting time and money. Software that makes you stand out so that you can help your customers, organisation, and partners even better. We're happy to exchange ideas with you.
---
Questions? Marjolein will be only happy to help
---
Custom software
Related knowledge & experience