---
Free Microsoft Azure AZ-204 Course (registration closed)
Become a Microsoft Certified Azure Developer Associate.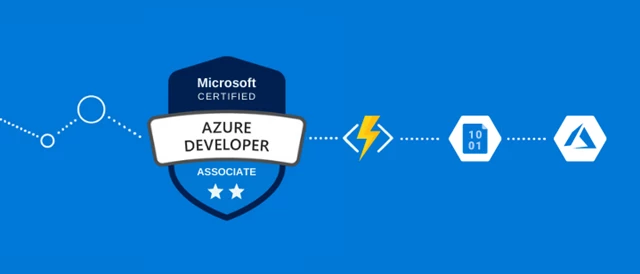 ---
Unique free course
Knowledge of the latest techniques is essential for developers. But above all for software-driven organizations. Now, more than ever. That's why Betabit is committed to training and knowledge-sharing. Both for our own employees as our customers.
In line with this mindset, we want to start the new year with a big bang. A group of developers will be selected for our free Microsoft Azure AZ-204 course. A training given by one of our most experienced Principal Cloud Architects and MVP: Rick van den Bosch. You might have seen him in our Betatalks or webinars.
A course consisting of five live online training sessions, followed by an optional refresher day. We will make sure you have the knowledge and resources to succeed.
Time is your only investment. A unique opportunity. Sign up below.
---
What you'll learn
This course targets developers who want to expand their knowledge of cloud technologies, in particular of the Microsoft Azure Cloud. We will prepare you for the official Microsoft exam. All Azure services will be covered, such as different ways of hosting data and applications, authentication and how to monitor and troubleshoot your applications. After passing the exam you'll be able to:
Develop Azure compute solutions

Develop for Azure storage

Implement Azure security

Monitor, troubleshoot, and optimize Azure solutions

Connect to and consume Azure services and third-party services
---
Schedule
There will be five live online training sessions. Each session will be on a Thursday from 9.00 AM to 13.00 PM, starting on 14 January 2021. Followed by an optional refresher day two weeks after the fifth session.
Session 1, 14 January 2021, 9.00 - 13.00 (CET)
Session 2, 21 January 2021, 9.00 - 13.00 (CET)
Session 3, 28 January 2021, 9.00 - 13.00 (CET)
Session 4, 4 February 2021, 9.00 - 13.00 (CET)
Session 5, 11 February 2021, 9.00 - 13.00 (CET)
Refresher day (optional), 25 February 2021, 9.00 - 13.00 (CET)
Each session should be prepared by reading up on specific information and doing homework provided by us. We will guide you in this.
---
Audience profile
Attendees should have two or more years of experience developing Microsoft .NET Web Applications and a basic understanding of Microsoft Azure Cloud technology. Having completed the AZ-900 exam is recommended, but not required.
---
Registration (closed)
Registration is closed. Do you like updates concerning new training opportunities, videos, talks or technical content? Sign up below.
---
Vragen? Johan helpt je graag verder
---
Are you familiar with our Betatalks?
Betatalks
Our specialists make sure you are caught up on the latest features and developments in the field of .NET and Azure.
Here you'll find all Betatalks episodes. Our webinars, Betatalks live, are available on demand. An overview.