---
Managed Services
Your software is live, it is running, it has momentum and success. Exactly what you want. And you want to keep it that way. We take care of this, from proactive support to full management. Your software product is continuously in top condition with our Managed Cloud Services.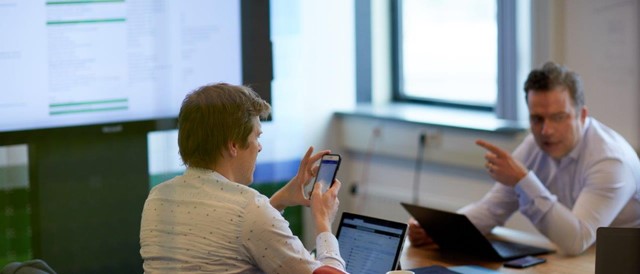 ---
Keeping your end-users happy
Technological developments are happening very fast and the pace is only increasing. This means that bugs or security risks arise in your software, that end-users expect and demand even more from your product, but also that you see opportunities in adding new features and functionalities. That is why it is necessary that your application is proactively managed and maintained. So that you can quickly and continuously fall back on high-quality software knowledge and expertise.
---
Active monitoring and prevention
With Managed Services, you are assured of an optimally functioning, up-to-date, secure software product. Problems and malfunctions are immediately signaled by active monitoring on both the application and the Microsoft environment. Our Managed Services team strives to predict maintenance issues, thanks to the high-performance Azure DevOps environment so that we can prevent incidents.
Are you not using Azure yet? We can help you take that step.
---
In control
We work with modern communication tools and processes so that you have quick contact and insight. With transparent communication, dedicated support, and periodic evaluation, we ensure that you remain well informed and in control. So that your application can be further developed immediately and efficiently.
---
Lasting value
In short, your software product is continuously in top condition with our Managed Cloud Services. Leverage our high-quality Azure DevOps team to deliver lasting value for your business. Even if you are not yet in Azure.
---
More information? Want to know how we can help you with Managed Services?
---
Managed Services
Or contact us. Nick is happy to help you