---
Managed Software Development Center
Your software is live, it's running, it has momentum and success. Exactly what you want and how you want to keep it. We make sure of that, from proactive maintenance to complete managed services. Your application is always in prime condition with our Managed Services.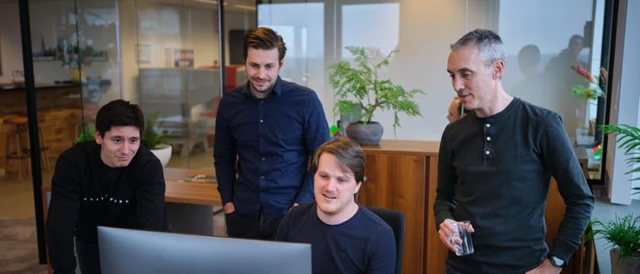 ---
Keeping your end-users satisfied
Technological developments go very fast and the pace is increasing. That means that bugs or security risks may occur in your software, that end-users start to expect and demand even more from your application, and that you yourself see opportunities arise through the addition of new features and functionalities. That's why your application really needs to be managed and maintained proactively. That you can always fall back on high-end software knowledge and skill, fast.
---
Active monitoring and continuous insight
With Managed Services, you are assured of secure, and up-to-date software that runs perfectly. Problems and malfunctions are signalled immediately by active monitoring of both the application and the Microsoft environment. We monitor a wide range of components with the latest tooling, from security and potential vulnerabilities to package updates, quality of code, and test coverage.
You receive frequent reports containing the most important actions, audit trails of incidents, work logs and releases, and status updates of specific KPIs. We make sure you are always up to date with our processes and findings.
---
Azure DevOps tools and knowledge
On top of all that, our Managed Services team strives to predict maintenance problems, thanks to the high-performance Azure DevOps environment so that we can prevent incidents from happening. And you can rely on our years of experience with and faith in the Azure platform. Since we were the first in the Netherlands to make a strategic decision to use Azure, in 2008, we are now the market leader in our field.
You're not yet using Azure? As Microsoft Gold Partner, we can help you make the change.
---
Your application in prime condition
We work with modern communication tools and processes so that you quickly have contact and insight. Thanks to transparent communication, dedicated support, and periodic evaluation we ensure you stay well informed and in control. That your application can be further developed directly and efficiently.
In short, your application is always in prime condition with our Managed Services.
---
How we work
To successfully manage your application's service, we go through several steps and offer you advice and improvement plans based on proven methods.
If you have an existing application, not developed by us, we will start off with one of our Cloud assessments. We then ensure that we coordinate our service, the software development and your application perfectly for optimum performance. We do that in the Application Management Process phase, with the help of the Capability Maturity Model.
With this, we guarantee high-end quality and service from the moment we start managing your application. We're happy to explain each element:
---
Would you like more information? Would you like to know how we can help you with Managed Services?
---
Questions? Nick will be only happy to help