---
Proactive managed service & maintenance
After the Application Management Process phase, you will be handed over to our Azure DevOps team. This team ensures proactive administration and maintenance for continuous performance and improvements. So your application is guaranteed to stay in prime condition.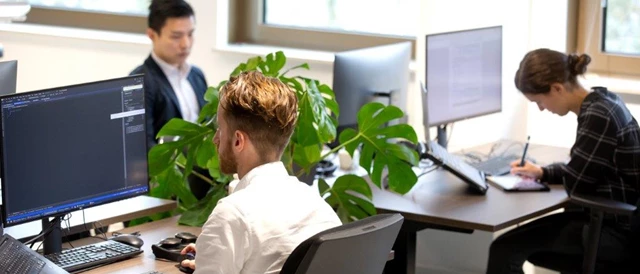 After a successful Application Management Process, our Managed Services teams will take permanent charge of your application. What do we offer you? What does your team look like? What exactly can you expect in the area of monitoring, incident management, continued development, or reporting?
---
High performing DevOps-team
You will be dealing with your own DevOps team and profiting from modern tooling and the advantages of Azure. The team is managed and supervised from the Netherlands by our service manager, who is responsible for the first line of communication, coordination, and documentation.
Management of software, maintenance, and quality will be taken up by our high-performing DevOps team in Serbia. High-performing because we can detect, respond to and restore interruptions to service in less than an hour. In addition, we use the best DevOps tooling and Azure services.
---
Monitoring and improvement
Our application management activities can be broken down into three categories:
Proactive maintenance: to safeguard continuity and prevent incidents, we monitor, improve, and update the software proactively, focusing on improving availability, reliability, accessibility, maintainability, security, and costs. We monitor a wide range of components with the latest tooling, from security and potential vulnerabilities to package updates, quality of code, and test coverage.
Reactive administration: if there is an incident report, we try to restore the functioning of the software as fast as possible.
Continued development: you have the option of submitting a request for modification should you wish to adapt, improve or replace (partially) your application. We will then join you in looking at the magnitude of the request and what will be needed to fulfil it. More comprehensive requests will be taken up by our team of Software projects.
In order to facilitate this process as well as possible, we work with a service desk portal to which your organisation is given access.
---
Management services contract
Our service and software management will be based on a management services contract, in which we record how your questions, requests, and wishes will be dealt with. This might include service requests due to bugs and incidents signalled by both you and us and which can be created. Also requests for software modifications and/or additions.
The starting point is that the deployment of knowledge, people, resources, and continuity of the services will be optimally provided within the agreed framework.
---
Reporting
We report monthly about the major requests, incidents, and actions and the amount of time we spent on them. Plus, depending on the agreements reached and the level of the development processes, we provide you with personalised KPI updates.
We reach agreements, with you, about the frequency of a periodic evaluation in which we focus on our services, preventive maintenance, and the improvement plan.
---
Managed Services
This is how we lay the foundations for a successful collaboration. With our Managed Services, you can relax and focus on that which sets your organisation apart.
---
All the advantages of Managed Services listed again:
---
Find out more on managed services and maintenance!
---
Questions? Nick will be only happy to help