---
Syntess Software
Guiding the migration of a complex ERP system to the cloud. Due to the design process and the choices made in it, Syntess now has a blueprint for building cloud-native software.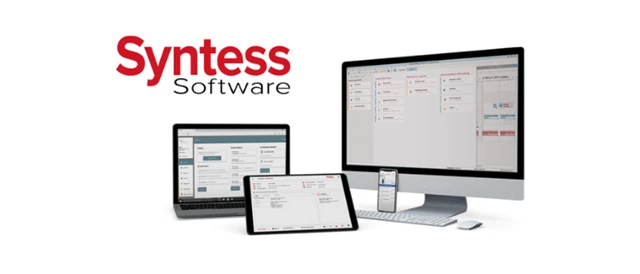 Syntess Software started as part of the technical installation company Saman, with the main goal: modernizing the administration. And with success. Today Syntess develops and sells ERP business software that is tailored to the specific needs of companies in the business Syntess came from and knows inside out. So Syntess also knows that usage patterns for its applications are changing. Customers, varying from independents to large companies with hundreds of employees, want to be able to have access to it 24/7, from any location and from a variety of mobile devices. But because Syntess software was originally designed to run on-premises, i.e. locally, on the IT infrastructure of its customers, this was becoming increasingly complex and cost-inefficient to achieve. With a migration of its Atrium ERP system to the cloud, Syntess could better meet the demands of its customers, that much was clear. But how to get there? Betabit provided guidance on some of the fundamental choices behind the Syntess cloud migration.
---
Pizza and cola, ideas and questions
"We sometimes organize an 'Ask the Experts' session", says Rick van den Bosch, principal cloud architect at Betabit. "These are informal and relaxed sessions where we not only provide pizza and cola, but where we also offer potential clients an opportunity to discuss their ideas and questions about a cloud migration with a couple of Betabit experts." After Syntess participated in such a session, Rick joined their project team tasked with finding the best way to eventually move their entire ERP package to the cloud.
My role as an architect is primarily about understanding a client's needs and wishes, spoken and unspoken. Based on that I design the optimal structure, allowing for possible future extensions, and advise on the building blocks to be used."
---
Important choices to be made
Any cloud migration involves a number of significant choices. A main one in the case of a large and complex ERP package that contains many interdependent modules and cannot be transferred in one go: How to ensure that the entire system continues to work seamlessly, even when some modules are already in the cloud whereas others still run on-premises? So how to synchronize data between the cloud and on-premises systems? What data storage method offers the best trade-off between storage costs and computing speed? And how to set up authentication and authorization procedures? What type of front-end do we want to use?
---
Hip and flashy, or also valuable?
Exploring these questions involves a lot of research and experimentation, testing and building of proof-of-concepts. "A big part of my job in answering such questions is making well-reasoned decisions about which services to select from the considerable number of services that are currently available in the Microsoft Azure cloud", says Rick van den Bosch. I provide insight into what services are available and their functionality, the pros and cons of each service and the trade-offs between them. Sometimes you see a tendency to use certain services mainly because they're hip and flashy. But in the end, the only thing that matters is whether they create value in view of a customer's requirements. They should enable us to build software that performs, is easily scalable and accessible, can be well maintained and is cost-efficient. I believe we've been able to help Syntess very well by guiding them through this design process."
Finding the best way to move our future ERP software to the cloud was a complex challenge, but thanks to the guidance from Betabit specialists we now have a great foundation to start with."
---
An ecosystem of solutions
By thoroughly documenting this process and the choices they made along the way, the project team has drawn a blueprint for how to build new cloud-native software and has created an entire ecosystem of tried and tested solutions that can be used for the migration of subsequent modules. An excellent foundation for all future ERP software solutions from Syntess.
---
Questions? Marjolein will be only happy to help
---
EDGE Next
Related knowledge & experience