---
Developers
Working with Betabitters; our developers are only too happy to join your team.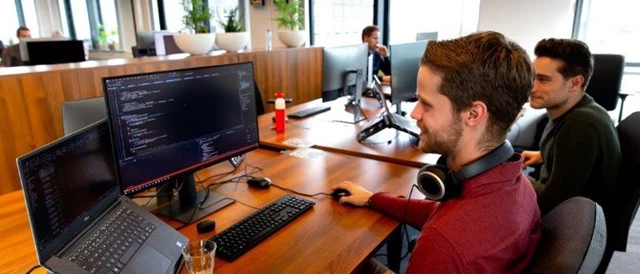 ---
Technology
Since we founded Betabit, we have focused on Microsoft technology. The following languages and techniques, with which you can strengthen your team, are part of our standard tools:
Microsoft Azure, .NET Core, C#, AngularJS, React, TypeScript, JavaScript, HTML5, CSS3, Continuous Integration and automated testing.
---
Experience
You gain experience by doing the work and taking on challenges. We have a healthy mix of architects, lead developers and new talents who, in varying compositions, are constantly coaching and challenging each other to get ahead. With our developers, you create additional opportunities in your development team.
---
Intelligence and inspiration
All Betabitters have been extensively tested during their job application process. After all, good software starts with smart people. But success also requires people with a passion for the software development profession. Creativity, persistence and enthusiasm are permanent ingredients in our teams. And perhaps in your team. We are happy to collaborate with you.
---
Learning
Our culture is very open, and we are extremely eager to learn. This, combined with our strict hiring policy, our focus on Microsoft Azure and the testing profession makes us unique. It sets us apart from the rest of the market. We are proud of this and are happy to share our knowledge with you.
---
Questions? Marjolein will be only happy to help
---
Developers
Related knowledge & experience