---
Guaranteed successful development team
Experience has taught us that a strong software developing team is the key to good software. A successful development team constantly keeps track of its progress and learns from experience. Everyone in the team is continually improving themselves and each other. We can make your team guaranteed successful.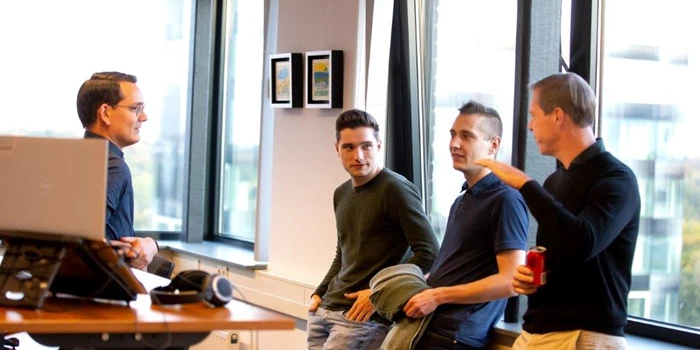 ---
People make the difference
Every development team starts with the people. Getting developers to commit to your organization is becoming increasingly difficult, let alone the right ones. We have a large team of motivated and committed professionals working for us. Our developers and technical testers are more than happy to come and reinforce your team.
---
Agile & DevOps
Modern development teams work Agile, combining software development and IT operations to develop quickly, steadily, and secure. Our experts have years of experience with these challenges. They know better than anyone how to apply this in practice. We're happy to help you with it. And we can even completely take care of the realization of your software application.
---
Training programme
Staying on top of the latest developments and technologies is at the heart of the modern employee. We have constructed our own training course, the best components of which are available and can be utilized by your ambitious developers too. You can offer colleagues specialised training which keeps pace with the professional areas we find important within our field.
---
Gaining insight through measuring
In the end, it's all about the quality of the software. That's the only way you can really make a difference for your clients. So you'll want to have constant insight into the quality of the software. We know the best way to measure and assess it and are happy to help your team with that.
---
Guaranteed successful development team
Our solutions
---
Guaranteed successful development team
Related knowledge & experience
---
Questions? Marjolein will be only happy to help