---
Secure and future-proof software
Software has to run. Now and in the future. And it must be secure. That's even more of a requirement for business-critical systems. This places high demands on the design, architecture, technology, and specialists who develop and maintain the software. You have to measure this. We're specialised in this with our YieldDD services.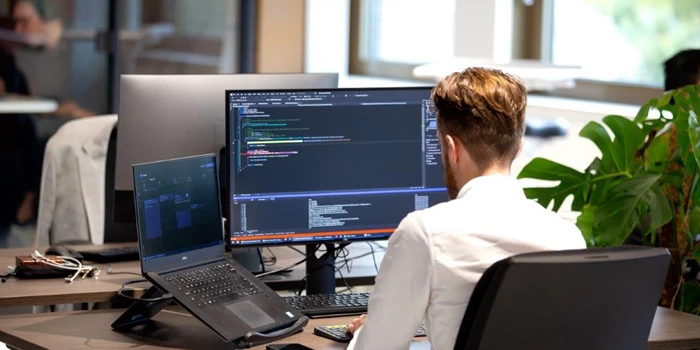 ---
Code quality
In the end, it's all about the quality of the software. That's the only way you can really make a difference for your clients. You have to know whether you're building the right components, whether it's scaleable and to what extent the software can be modified, maintained, replaced or expanded. We often see a successful organisation that can't, or can only barely, modify or expand its software.
Also, a lot of organisations believe that they own the intellectual property rights to their software. Often, that's not the case. Developers give it away, unconsciously and unwillingly, by using pieces of open-source software. We offer insight into the quality of the code.
---
Security
Nobody wants to lose data. When data is leaked, that badly damages reputations and results in a loss of trust and possibly even clients. In the worst case, you'll go bankrupt. So your software must be secure. And it will only be secure if that's constantly taken into account during design, development and testing. That's why we make great demands on the software that is developed and researched.
---
Team processes
Organisations that implement change often assume that developers can raise the software to a higher level. This is absolutely not self-evident. Are the right specialists on the team? And are they doing the right things?
There are countless possible scenarios, all with different consequences for or requirements of your team. We offer insight into the quality and performance of your team or teams and make sure they get the necessary training.
---
Strategy
A strategic business decision regularly has far-reaching consequences for the key software. And there's often the assumption that successful software can be effortlessly combined with other systems or that it can be expanded with modern technology such as Machine Learning. Wrongly. It takes a lot of time, effort, and money to integrate multiple systems. That's assuming that it's even possible. We examine the software thoroughly to see whether it's in the way of the strategy and where there are opportunities to be found.
It's crucial that you measure and indicate all the above-mentioned aspects.  We're specialised in this, thanks to our YieldDD Software Due Diligence services.
---
Secure and future-proof software
Our services
---
Questions? Marjolein will be only happy to help
---
Secure and future-proof software
Related knowledge & experience